Deploying an effective digital marketing strategy and reaching high online visibility while having nothing tangible to offer your audience is an all-sizzle-and-no-steak scenario that likely won't bring you the coveted and often-times elusive long-term success. Similarly, having high-quality content/product/service usually isn't enough for your business to gain palpable traction. In order to achieve an all-round success, a quality website also needs a potent SEO strategy that would make sure its content reaches all the right people i.e. your potential clients. 
But how do you know if your SEO investments and efforts are on point and will pay off in the long run?
And more importantly – especially for those who perform SEO services to their own clients – how do you know what data to track and display in order for your progress to be as clear as possible to your customers? 
This is where SEO "KPI metrics" come into play. 
But first let's address the proverbial elephant in the room: 
KPIs ≠ Metrics
Although terms like metrics, KPI, and even KPI metrics are (too) often used interchangeably, they do not exactly convey the same message.  
KPIs (Key Performance Indicators) – represent key measures that tend to have the biggest impact on moving your SEO strategy forward. It should provide actionable, data-driven insight into what exactly needs to be measured and achieved in order for your long-term objectives to be fulfilled. 
Metrics – represent the data reflecting your progress, but do not act as the critical performance indicators that need to be monitored and measured. 
According to a recent study conducted by SEMrush, there are 17 important SEO KPIs. These KPIs and their direct impact on rankings is displayed in the graph below: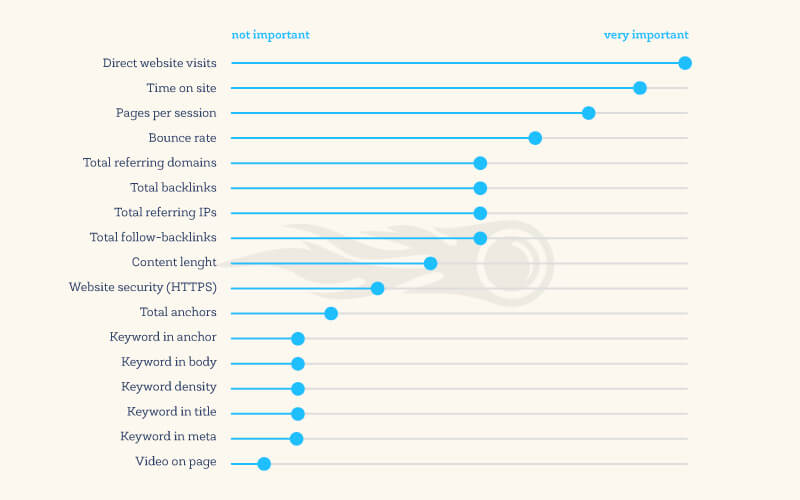 However, we believe some of the critical SEO KPIs have been overlooked here. The truth is – not all metrics are made equal, which is how we get KPIs. But also – not all KPIs are made equal.  
In order for your strategic plan to be effective and your SEO reports to be as informative and concise as possible, you need to find the KPI sweet spot, which usually means having between 7 and 9 clear Key Performance Indicators that can directly factor into and portray the overall success of your campaign. 
For the sake of this article, we will divide KPIs into 3 different sections: GA (Google Analytics), GSC (Google Search Console), and Other KPIs. 
Google Analytics SEO KPIs
1. Organic Traffic: Goal Completions And Conversions
Organic traffic refers to visits made by the customers coming to your website using a search engine rather than clicking on a link via another website (which is known as referral traffic) or via clicking on an ad (known as paid traffic). 
Though organic traffic is likely the most reliable indicator that your website is performing well, Conversions is the SEO KPI that your campaign (and your SEO report) should revolve around. The harsh reality is that your site could be getting a plethora of daily visitors, but without them actually converting, your high organic traffic would likely end up being a mere Pyrrhic victory.  
Here's how to set up Goal Completion tracking within Conversions in GA:
Go to

Conversions 

Click on

Goals

Go to

Overview

Click on

Add Segment  
Once you've Clicked on Add Segment, opt for

Organic Traffic

Click

Apply
This will set up your report to display metrics that include goal completions, goal value, and goal conversion rate, thus giving you insight into your organic traffic ROI.
However, these numbers are not to be taken as definite nominal values. To get a more granular data and a more zoomed-out overview of your funnel and channels that work best, we suggest you also pay closer attention to Top Conversion Pathways. 
To find this metric go to: 
Conversions

Multi-channel Funnels

Top Conversion Pathways
Pro Tip:
In the search bar within Top Conversion Paths, type in Display. This way you will get an insight into exactly when and where display conversions occur from an Impression standpoint i.e. how many people saw the ad, didn't click on it, but later came to your website and converted. You can also type in Social, and see every social media touch point, regardless of whether it was the first, middle, or the last touch point, and therefore begin to understand where the overlap occurs within your channels. 
2. Bounce Rate
Bounce Rate tells you how many visitors came to your website but left after viewing only one page. This important SEO KPI gives you valuable data on the journey of your visitors and can inform you about what exactly is pushing potential clients away from your webpage. Whether it is the quality and/or length of your content, faulty design, poorly written copy, page loading time, or something else – Bounce Rate can help you determine the bounce origin and thus nudge you in the right direction in terms of potential fixes. 
To find Bounce Rate in GA, you need to: 
Go to

Behavior

>

Site Content

>

Landing Pages

Check off the

organic traffic

segment 

The bounce rate report will be shown.
The general rule of thumb with this KPI is that high bounce rate and low time spent on the site indicate that you are either attracting the wrong people with your marketing campaign, or your website/content aren't meeting the needs and wants of your target audience. 
Pro Tip:
Poorly written meta descriptions and ad copies tend to be among the most frequent culprits responsible for high bounce rates as they tend to mislead your visitors about what your content or page is all about. If the visitor isn't provided with the information they expected, it is highly likely they would immediately leave your page. To avoid this kind of scenario you need to make sure the right visitors are reaching your content and that your content (alongside other information found on your website) is informative, cohesive, actionable and easy to comprehend. 
GSC (Google Search Console) SEO KPIs
3. Total Number of Organic Clicks
GSC allows you to see the overall number of clicks your website gets and from which search terms those clicks are coming from. It also lets you know which landing pages are generating the most clicks and from which devices those organic clicks are coming from. 
To access this data, go to Overview and click on Open Report located on the right-hand side of the interface. Here, you will get the data about your clicks.  
Pro Tip:
Be sure to filter your data by Search Type: Web, as shown above. Otherwise you are likely to end up seeing numerous image search based queries (which is fine if you are specifically seeking that type of data). 
4. Mobile Usability Report
Making sure your mobile visitors are getting the highest possible user experience has recently become even more relevant than desktop traffic (more on this notion later in this article). To gain insight into the levels of Mobile Usability of your pages, you need to go to:
Enhancements > Mobile Usability. 
The data will show all the issues your mobile users are facing, along with the URLs that have trouble displaying properly on mobile devices. 
5. Crawl Errors
This is perhaps the most overlooked SEO KPI. Crawl Errors is paramount for both your onsite and offsite SEO efforts as it can help you track down your URLs that cannot be accessed by Googlebot, which in other words means – the pages that are basically invisible to Google, and therefore your potential visitors.
When Google is able to properly cache your website pages, the chances of them ranking high and boosting your organic search traffic increase accordingly.  
Crawl Errors is accessible within the Crawl Stats tab in GSC and should be monitored regularly so you can quickly fix errors should they occur. 
Note: Crawl Stats are available only for verified websites. 
Pro Tip:
Make sure you provide your sitemap to Google Search Console and check if any of your pages (especially those that bring traffic) are being blocked by robots.txt. If this turns out to be the case, you need to fix this issue and unblock the pages as soon as possible. 
Friendly Tip: If all this feels a bit overwhelming and you are not quite sure if you are able to perform all these SEO tasks, we recommend contacting our experienced SEO team and get professional help with your online visibility.  
6. Links
Most of SEO professionals, including ourselves, claim that links are one of the main building blocks of a successful content marketing campaign. There are many ways to get links, but the most valuable ones are those earned via quality content. 
To track this KPI, go to the Links tab in your GSC menu. Here you will see the data regarding your: 
External links

Internal links

Top linking sites

Top linking text
Pro Tip:
The best way to create high-quality, relevant backlinks, according to Google's Webmaster Guidelines, is to: "create unique, relevant content that can naturally gain popularity in the Internet community. Creating good content pays off: Links are usually editorial votes given by choice, and the more useful content you have, the greater the chances someone else will find that content valuable to their readers and link to it."
Straight from the horse's mouth.  
7. Pages Indexed and Index Status
The index status of your website helps you better understand the URLs that Google (and other search engines) has indexed or has tried to do so. By tracking this SEO KPI you can pinpoint any indexing issues and figure out what caused them; whether it is the search engine incorrectly blocking your pages, duplicate URLs, sitemap problems, nofollow and/or noindex, etc. 
To access this data in Google Search Console and navigate to the Index tab and there you can track your Coverage and submit Sitemaps. 
Should your Index status report display any sudden drops and/or sharp boosts, it typically means you should examine these events in more detail in order to determine the cause(s).
Other SEO KPIs
8. Target Keywords (and Their Organic Ranking) 
To leverage this important SEO KPI, one needs to identify which keywords are sending most of the traffic your way. As Google Search Engine Results Pages (or SERPs) is a frequently changing ecosystem, especially in terms of local listings, PPC ads, and general SEO "rules," tracking Organic Ranking is among the most detrimental parameters to include in your SEO reports. 
Working your way up through the SERPs can be quite a task. However, reaching the top of organic rankings for your target keywords doesn't have to be the tallest of orders. The trick is to have patience and start with creating the content that actually answers the users' questions and provides them with palpable and actionable data. 
Friendly Tip:
Check out this user-friendly, intuitive yet free SEO and PPC keyword and ad targeting tool that can help you with your keywords and tightly targeted PPC campaigns. 
9. Page Speed
Page loading speed has always been among the relevant KPIs within the SEO environment, but with the increase of the mobile-first trend over the past couple of years or so, it started to significantly factor into the mobile search rankings.
After all, if we zoom out a couple of layers, we will realize that page loading speed isn't just important to your business, it's important to search engines as well. All your customers are (and have always been) their customers first.  
Driven by this notion, it is in everyone's interest (yours, Google's, your clients') to have a fast loading time. It can help you boost your user experience and therefore become more relevant in the eyes of a search engine.  
How to Create Perfect SEO Reports
Once you decide which SEO KPIs are the puzzle pieces detrimental to painting the right data-driven picture to your clients, it is time to figure out how to create informative, concise and easy to understand SEO reports, and (in the best-case scenario) automate them so you don't have to waste valuable time manually assembling them on a monthly/weekly basis. 
To do just that, we humbly recommend trying out Reportz – our automated reporting dashboard based tool tailored to cater specifically to marketers and agencies operating within SEO, PPC, Social Media, E-Commerce, and niches alike.  
With this intuitive reporting software, you can assemble dashboards that can feature an unlimited number of widgets displaying all the KPIs and metrics you want to show (and hide those you don't really want to display), and you can do this in a matter of minutes. Reportz easily integrates with many prominent data sources that you can use to customize, merge and portray just the right SEO data in real-time.
As John Lincoln said in his article about SEO reporting, one thing is to create awesome-looking reports, but the goal is to create reports that your team will actually use to understand the state of a specific SEO campaign.
Wrapping Up
The aforementioned SEO KPIs will do a neat job informing both you and your clients about the progress of your SEO campaign. However, as all clients are different (or at least they like to think they are), it is important to customize your reports according to their unique needs, as well as according to the type of campaign you are running. 
In certain cases and for certain campaigns some of these 9 KPIs won't do the trick, while some may turn out to be irrelevant. This is why we recommend you carefully think about what the main goal of your SEO efforts is and shape your reports accordingly.