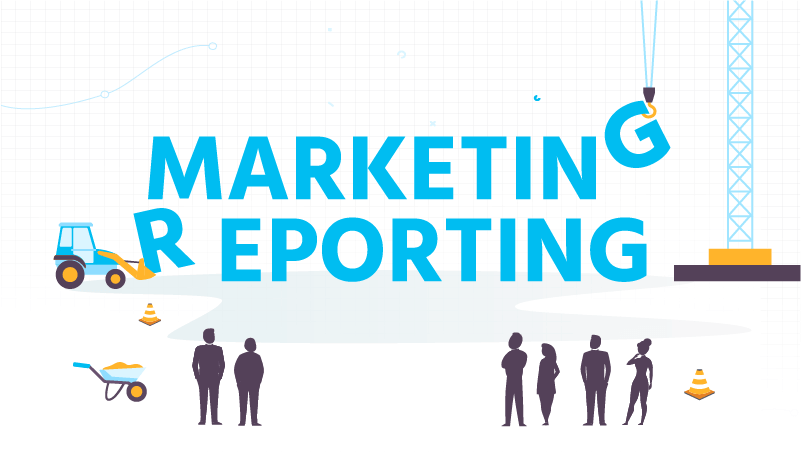 If you run a business that provides continuous service month in and month out for your clients, then you probably already know just how important reporting truly is for your success.
Reports shouldn't be treated as random documents that businesses send to their clients just for the sake of complying with the procedures. They are actually vital pieces of the puzzle that bring all your business and marketing related activities together in one place.
Apart from connecting all the dots, reports are used to put everything that has been done so far into the right perspective. They drive future strategies and help businesses understand the actual work that's being done on their behalf by marketing agencies and other types of companies with which they have partnered up for different purposes.
However, even though most people will claim they know this to be true – a vast majority of businesses still experience a lot of difficulties in this domain.
For a lot of companies out there, reporting has become nothing short of a complete nightmare. Both from the agency's and from the client's point of view.
The Struggle with Marketing Reporting
As marketing reports gained on their significance, clients grew more demanding when it comes to receiving proper feedback.
Guess what: sending messy and complicated Excel sheets listing literally everything you have ever done on client's behalf is no longer considered to be an acceptable form of feedback. The days of cherry-picking the best results, double counting revenue, and not combining the right data sources together are long gone.
Many agencies today encounter different issues when it comes to reporting or make mistakes out of inexperience. They run reports for clients only when it's time to renew their contracts, or they report on an inconsistent basis. In addition, they lose sight of what is truly important – crafting comprehensive and visually consumable reports that offer valuable insights to clients.
On the other hand, clients keep paying for a particular service month after month, sometimes practically without even knowing what they are getting in return. This goes on until one day, they ask for thorough feedback and learn that their agency has been doing terrible work for them.
Once they get burned for the first time, some of these clients will move on to different agencies with a newly-developed hostile attitude. They'll start seeing agencies as the enemy and keep bringing negativity to the process.
This bitterness can quickly transform clients into uncommunicative and uncooperative beings that end up wasting a lot of time and energy – theirs and yours. Some of them become commitment-phobic and unrealistically pushy, while others just drift away and ignore most of the agency's insights and advice.
All of this has to change, ASAP.
Building the Foundation of Good Business Between the Client and the Agency
Reports are meant to strengthen client/agency relationships, not destroy them.
In our agency, reporting is a treasured piece of the puzzle. We have invested a lot of our time and resources into optimizing this process, and it has certainly paid off.
Some of our clients operate in ever-evolving industries with high dynamics of change. They know how important it is to keep track of progress and remain agile in order to survive on the market. They are aware of the risk of becoming yesterday's news, and so they embrace the data-driven approach. They want to test a lot of different theories in order to fully utilize their resources and push their businesses forward.
So, how do you think we solved the reporting problem here?
The trick behind our success is simple: introduce more pertinent data to the game and increase the frequency and relevancy of your reporting.
Developing a great jumping off point with a client and setting up the right foundation for future marketing efforts is the most important, but often the hardest part of the reporting equation.
Relationships can often become disjointed because of errors like failing to provide genuine insights, lack of face-to-face time, or setting unrealistic expectations. Before you decide to partner up with someone, it's imperative to get the basics right.
Yes, we're talking about KPIs.
The Importance of Agreeing Upon KPIs
Understanding each of your clients' goals and agreeing on specific KPIs you're going to pursue/track is the first thing you need to cross off from your checklist.
As they say: "What can be measured, can be improved." If you don't believe this is true, snoop through the Coschedule's big report: marketers who set goals are 429% more likely to report success than those who don't.
While there is no single, universally effective step-by-step process to help you determine which KPIs to track, there are a couple of things that both sides should take into consideration. Needless to say, KPIs should always be in sync with the client's business goals.
KPIs are quantifiable data points that measure your efforts in relation to what you've set out to achieve. KPIs are usually tied to such activities as increasing sales, improving the overall ROI of specific or general marketing tactics, or just providing better customer service.
A lot of agencies experience difficulties when it comes to defining the right KPIs: they either focus too much on the low-level data or spend most of their time tracking or reporting only on high-level data. Because let's face it – most marketing professionals love going into detail.
They adore talking about marketing tactics, which is fine if they are doing that with their colleagues. But when talking to non-business executives or business owners for whom they are providing a specific type of service – it's important to stay focused.
Your clients don't really care about metrics that don't directly translate into dollar signs. For most of them, "revenue generated" is the first thing they want to hear about, and then – how much budget it took to produce it.

Of course, there are exceptions. If, for example, you can't track exactly by how much your work has impacted your clients' revenue – reporting on traffic and lead gen is a decent substitute. However, that doesn't necessarily mean that you should only follow and report on things that directly impact the sales funnels from visitors to revenue.
The goal here is to find a balance. Monitoring low-level metrics is critical to improving your overall marketing efforts. If you're not monitoring the situation in real-time and testing what's working and what's not – you risk falling behind.
Regardless of what you're striving to achieve or in which direction the client wants to go, it's important that both parties involved remain on board with the plan. Once you lock down the crucial elements, it's time to establish the right dynamic.
Weekly Vs. Monthly Reporting
Even though monthly reporting is by far the most popular model in marketing, our practice has shown that reporting in shorter intervals is a lot better for agencies that want to keep their clients in the loop. Especially if clients do business in niches that tend to change on a daily basis.
There are a couple of key reasons why we have decided to switch from monthly to more frequent reporting:
Regardless of the fact that monthly reporting is faster to compute, easier to model, and a lot simpler in terms of identifying changes – it's still a strategy that can butcher the client/agency communication.

We all live busy lives, no doubt about it. But if we only converse with our clients when it's time for them to pay the bill, we might have some trouble proving that we have indeed earned that paycheck.

As an agency that provides various types of digital marketing services, our partnerships with clients are never really as simple as, for instance, running paid search Facebook campaigns. Our clients are paying for more than just the basics. They are interested in our insights, feedback, and suggestions – not just in traffic. They believe it's our job to provide them with all of these things, and we full-heartedly agree.

The more time we get to actually converse and go over the details, the better the results will be in the end. Monthly reporting doesn't really do you justice here. It can create a big gap between client updates and place you in a situation where you need to prioritize and compress your progress report, regardless of its size and importance.

People rarely want to sit for more than an hour in a meeting or at a call. Their attention and patience are limited, so you're obliged to say everything you have to say as succinctly as you possibly can. Naturally, only the most important topics will make the cut, which leaves you with a lot of ground that you'll still need to cover at some point. The remaining issues might not be of the highest priority, but that still doesn't necessarily mean that they aren't worth talking about.
Showing your clients what their money is being spent on and what they're getting in return is of great importance here. This is a lot easier to do if you frequently communicate with a client. For example, if you run PPC campaigns for someone – weekly reporting is a lot better option for you than monthly reporting. The changes become easier to implement and the whole campaign optimization process is done on the fly. The budget is also allocated more prudently and you can easily see what works and what doesn't.

Most agencies start out the relationship with a new client by going over their analytics reports, but after a while – that becomes a boring task, both for the client and for the account manager. The client loses interest and no one pays much attention to anything… and that's when the agency starts to feel like they're the cause of this poor client/agency relationship.

When you stick to the monthly reporting system, there is always that final week of the month when everything becomes chaotic. Regardless of how well-organized or in sync you are with the workflow, certain details always get lost or pushed aside in the process. This is especially true for agencies that work with a large number of clients.

For example, if you've been working with a client for twelve or more months, you have probably believed that the client is yours for good, and you may have started feeling a bit too comfortable with the work. This is only natural, it happens to everyone. Before you know it, the reporting becomes easier and easier. Month after month, you start devoting less and less attention to that particular client. All of the reports start to look alike, and before you know it – the overall quality of managing the client's campaigns starts to decline.
The Lowdown
Reporting on a weekly basis keeps you sharp. It keeps you dedicated to the mundane and the impulse to put things off instantly becomes significantly weaker.
Embracing the weekly reporting structure reduces the risk of either you or the client becoming complacent and it generally leads to a better, more dedicated and focused client servicing.
Setting unbreakable shorter deadlines can bring a bit of additional stress to the game, but you don't really have to worry about anything if you automate a significant part of your reporting.
The biggest reason why most agencies don't do reporting on weekly basis is because it tends to eat up significant amounts of their time by requiring endless copying of insights from numerous sources and pasting them into nicely designed documents.
With Reportz, you don't have to waste your time on collecting all the important data into a single, easily readable and understandable layout. All you have to do is set your template and integrate your most important data sources with our unique marketing KPI dashboard. It only takes a couple of clicks to get the entire thing done.
From there, you can quickly see what's going on with your client's campaign, so compiling your weekly feedback doesn't have to be a long and boring process. Serving the client with real-time analytics and more frequent feedback will help you get more things done. Apart from that, it will also significantly improve your business relationships and overall client satisfaction with your work.
Back in January, we switched from monthly to weekly reporting on three of our biggest accounts. Even though it was a bit tough at first, because we didn't really know how to operate on such a tight deadline – as time went by, the quality of our output and feedback started to increase.
Today, our biggest clients are more satisfied with our services than they ever were. If you are running an agency – try switching to the weekly reporting model. If you set the right foundation and use proper automated reporting software to help you cut all the dull work and unnecessary complications from the equation – you'll probably excel in this department.
Give Reportz a go: take advantage of our trial period and see the difference weekly reporting can make for your business!